IAN TILMANN'S STORY
Visit The Ian Tilmann page on The SkateBoarders Journal
Ian Tilmann loved skateboarding and spent many hours enjoying the sport. He loved feeling the wind surrounding him as he sped downhill carving each and every curve of the road beneath him. He was fearless with a strong belief in enjoying life to its fullest. He was a street surfer...his passion was long-boarding.
On the evening of May 16, 2005, Ian and several friends were skateboarding down Hercules Ave. in Clearwater, FL on a hill known locally as Cemetery Hill. As he was making his last run down the hill that evening his skateboard suddenly stopped and he was thrown headfirst onto the pavement. Ian was NOT wearing a safety helmet and as a result he suffered severe traumatic brain injuries. Ian never regained consciousness and died 10 days later on May 26, 2005. Our beloved son was 28 years old. When people hear Ian's story many ask with shock and disbelief "he died from falling off a skateboard"? We truly believe our son's death could have been prevented by simply choosing to wear a helmet.

Ian served our nation admirably as a member of the U.S. Marine Corp. He was very proud of his USMC service and received numerous honors, Meritorious Masts and Commendations.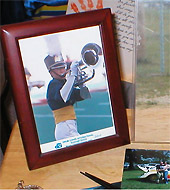 Ian was a member of Suncoast Sound, a drum and bugle corp, and marched in the "Summer Music Games" from 1991 through 1994. He graduated from Countryside High School in 1994.

Ian was a skater, a vibrant, fun-loving free spirit. He is gone, but will never be forgotten. Ian's memory will live on in our hearts, minds and souls forever.

THE LEGACY
Ian had a passion for humanity and helping others. Ian's family and friends understood this passion and his "pay it forward" attitude. We will forever miss him. It is our hope that through our tragic loss we can pass on Ian's passion for humanity by saving other families the pain that we have endured.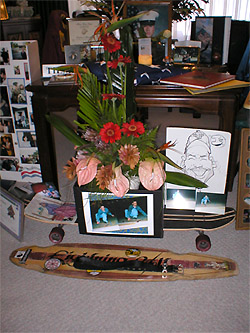 IN LOVING MEMORY OF IAN LEE TILMANN
OCTOBER 26, 1976 TO MAY 26, 2005